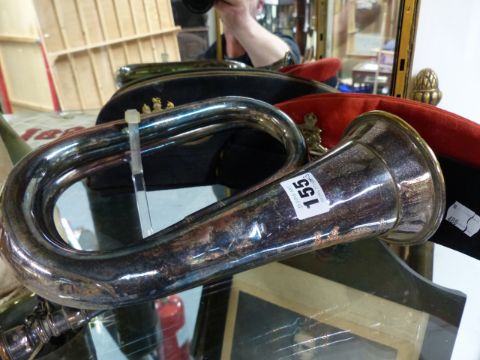 Click on the image to see full size
Use mouse wheel or two fingers to zoom in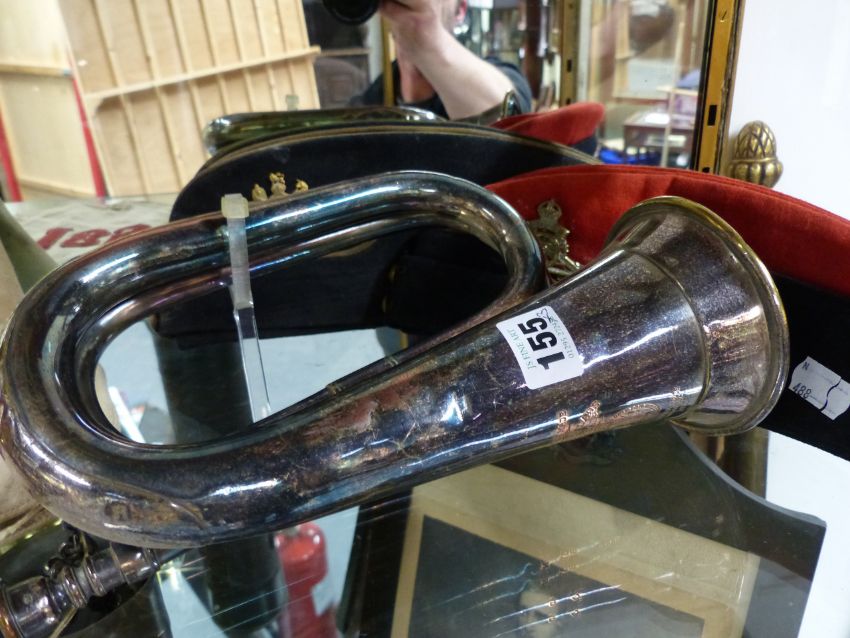 Live auction
Lot closed
Lot location
Banbury, Oxfordshire
A SILVER PLATED BUGLE INSCRIBED CHURCH LADS BRIGADE TOGETHER WITH TWO MILITARY SIDE CAPS.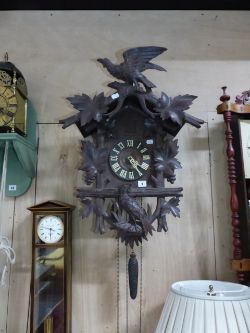 Venue address
Cotefield Auction Rooms
Oxford Road
Banbury, Oxfordshire
OX15 4AQ
United Kingdom
"The Country House Sale" Selected antiques & Decorative Interiors (3 day sale)
Selected antiques & Decorative Interiors , Paintings, Sculpture, Jewellery, Oriental, Clocks, Toys
Auction dates
Sep 22, 2017 10:00 AM BST
Lots: 1-500
Sep 23, 2017 10:00 AM BST
Lots: 1001- 1650
Sep 30, 2017 10:00 AM BST
Lots: 2001-2610
Viewing dates
Sep 29, 2017 09:00 AM - 07:00 PM BST
| | |
| --- | --- |
| Auction currency | GBP |
| Accepted cards | |
POSTAGE AND PACKING
We understand that it's not always possible to be at the sale or collect your winning lots in person so we are happy offer a packaging and postal service. Please contact us for a quote. We are not professional packers or shippers but are now very experienced. We will do our best to ensure that your parcel is packed in a way to ensure the item is safe for its journey. Please contact us so we can advise if the lot is suitable for sending on. If we cannot post the lot to you due to size or weight, you are welcome to arrange collection by another carrier. A list of our recommended carriers is detailed at the bottom of this page.
If you were bidding via www.the-saleroom.com, due to increased security measures, we will only despatch parcels to the registered cardholder's address. Any requests for parcels to be sent to an alternative address are at the discretion of the auctioneer.
All small packages and "jiffy bags" sent within the UK mainland are sent by Royal Mail Special Delivery and can be insured up to £500.
ALL BOXES within the UK mainland are sent via Parcelforce 48, TNT, DHL or Fed-Ex. We remind customers that ITEMS CANNOT BE INSURED due to the nature of our lots and the carriers' terms and conditions.
Items are normally sent within seven days of payment but we are unable to guarantee delivery times.
For items being sent outside the UK mainland (including Ireland and the rest of Europe), we will send packages using Parcelforce Worldwide, TNT, DHL or Fed-Ex but most items that we sell (due to their antique nature) cannot be insured using this service and the costs of these services will be priced on size and weight of the parcel. For a quotation, please send the full postal address to enquiries@jsauctions.co.uk
Prices will include packaging costs and postage, both excluding VAT at 20%.
Further postal options:
Small, medium and large parcels with added insurance.
Pack & Send (UK & International)
Tel: +44 (0)1865 260 610
Email: oxford@packsend.co.uk
Recommended Carriers:
Oxfordshire and further afield including weekly runs M40 corridor and London. Also monthly to the North of England. Holmes & Holmes: 01869 337777 (24hrs).
Holmes & Holmes carriers will be happy to quote for all areas including Europe if required and also offer containerised storage. Email: dan@holmescarriers.co.uk Website: www.holmescarriers.co.uk
JS FineArt, ('The Auctioneers') act in every respect relating to goods and the sale thereof as agents only of the person or persons, sending to or leaving such goods with the Auctioneers ('the Vendor'), with a view to the sale thereof.
Applying to Purchasers
All lots are sold as shown, with all faults, imperfections and errors of description and the Auctioneers shall not be liable for and do not accept responsibility for the authenticity, genuineness, date, age, peri­od or condition or quality of any lot, in bidding the purchaser accepts the lot as shown, and the auctioneers shall not be liable for errors of description express or implied as to any of these matters. The Auctioneers may at the sale, either verbally or in writing, modify any descriptions or statement in
the catalogues.
Bidding
• potential bidders, must before commencement of the sale, register their full name and postal address with the Auctioneers. Written proof of such details may be requested.
• In making any bid or commission bid a purchaser acknowledges that his attention has been drawn to these conditions of sale and that he agrees to be bound by them.
• The highest bidder at the fall of the gavel shall be the purchaser.
• The advance of bidding shall be regulated by the Auctioneers who reserve the right to refuse any bid.
• The Auctioneers reserve the right of absolute discretion in all disputes concerning the conduct ofany sale and to re-offer, either immediately or in a future auction, any disputed lot.
• In the case of lots upon which the Vendor has imposed a reserve the Auctioneers shall have the right to bid on behalf of the Vendor.
• A premium of the rate of 20% of the price realised for each lot over and above the hammer price plus V.A.T. (at the prevailing rate) to the Auctioneers for their own retention, and the property in any lot shall not pass to the purchaser until he has made payment to the Auctioneers of the full hammer price and the purchaser's premium (inclusive of any V.A.T.) and a minimum charge of £1 (one pound) plus vat per lot will be charged
. lots purchased through online portals will also be subject to a further 3% plus charge
• In certain circumstances a lot may be subject to V.A.T. This lot will be marked with an asterisk
Commission and Telephone Bids
If instructed, the Auctioneers will execute bids and advise prospective purchasers. This service is free. Lots will always be purchased as cheaply as is allowed by other bids and reserves. In the event of iden­tical bids, the earliest received will take precedence. There must always be a maximum limit indicated. 'Buy' or unlimited bids will not be accepted. Commission bids placed by telephone are accepted at the client's risk.. All bids are accepted exclusive of buyers premium and VAT.
Written confirmation of telephone bids from persons unknown to the Auctioneers must be received before the commencement of the sale. Whilst every effort will be made to execute telephone bidding, the Auctioneers cannot be held respon­sible for any default or neglect in connection with this service. All such arrangements therefore are made entirely at the prospective buyer's risk.
It is recommended that all requests for telephone and commission bids are received by the auctioneers by the end of day prior to the auction. While every attempt will be made to execute such bids received on the day of the auction, it is not always possible to do so at this late stage.
Please note that any lots purchased via the-saleroom.com live auction service will be subject to an additional 3% commission charge + VAT at the rate imposed on the hammer price.
Clearance and payment
No lots may be removed without payment of the full purchase price and the purchaser's premium includ­ing any VA.T. unless any prior arrangements have been made. All lots are at the purchaser's risk after his highest bid has been accepted by the Auctioneers. All lots must be removed at the purchaser's risk and expense by 5pm on the Monday following the sale, in default of which the goods will be removed and stored at a charge of £10.00 plus V.A.T. per week per lot, plus any transport costs. The Auctioneers shall not be liable for any loss or damage of any kind while the lot is in their or their agents' custody. In the event of any breach of these conditions by the purchaser the Auctioneers reserve the right to re-sell any lot without further notice by public or private sale and any loss arising from such sale together with all charges and expenses shall be made good by the defaulter. Purchasers shall be charged interest on any account unpaid for more than 7 days from the date of sale at the rate of 6.5% per month or part month. No lot to be removed during the sale without being previously paid for, this at the discretion of the Auctioneers.
Applying to Vendors
Sales commission
All Vendors, on entering lots for sale, agree to pay a commission to the Auctioneers at a rate of 20% plus V.A.T. of the hammer pricewith a minimum charge of £8(eight pounds) plus V.A.T. per lot
Loss/Damage Warranty
Unless otherwise instructed in writing the Auctioneers will for a premium of 1% cover all goods left on their premises against the risk of burglary, fire and water damage, theft and accidental breakage. Any claim arising will be processed by the Auctioneers on the basis of their estimation of the sale realisation figure that the goods concerned would have achieved. The Auctioneers shall not be liable for any damage to or theft of goods not insured.
Storage
The Auctioneers offer free storage of items delivered up to three weeks prior to sale however reserve the right to make a charge for storing all goods delivered earlier than this or with insuf­ficient instructions and also for goods left on their hands for more than 14 days after the Vendor has received notification of non-sale.
Reserves
Reserves must be confirmed in writing prior to the sale otherwise the Auctioneers will not be responsible for the application of reserves. Reserves will not be accepted on any lot deemed by the auctioneers to be of a value of less than £50 (fifty pounds), (certain exceptions apply), and lots deemed below this value will be sold regardless
of estimate.
Unsold Lots
All lots unsold must be removed by the vendor within 7 days of the sale, items not collected by this time will be re-offered for sale without reserve. If the said lots remain unsold after reoffering, and are not collected by the vendor, they will be disposed of at the vendors cost.
Payment
Settlement is normally made to a Vendor approximately 14 working days after the sale. The Auctioneers act as agents and are thus not liable for any default by the purchaser. The Auctioneers will pay the net proceeds of the sale to the Vendor, provided that the Auctioneers have been paid by the purchaser. The Auctioneers shall be entitled to withhold or set off any liability of the Vendor to the Auctioneers on any account against any sale proceeds otherwise due to the Vendor.
Applying to all -
Third party liability
The Auctioneers shall not be liable for any loss, damage or injury whatsoever occasioned to or sustained by any person during the period of public viewing at the auction sale, or before, during or after the sale itself, however the same may arise, unless arising from the negligence of an employee of the Auctioneers.
PLEASE READ ALL INFORMATION IN THIS SECTION
THE AUCTIONEERS SUGGEST THAT VIEWING IN PERSON IS ESSENTIAL WHEREVER POSSIBLE.
CONDITION REPORTS ARE OFFERED AS A COURTESY BUT SHOULD IN ALL CASES BE ASSUMED TO BE A MATTER OF OPINION AND PROSPECTIVE PURCHASERS ARE ADVISED TO SATISFY THEMSELVES AS TO THE CONDITION AND DETAIL OF ALL LOTS.
ALL MEASUREMENTS AND WEIGHTS NOTED IN THE CATALOGUE AND SUBSEQUENT CONDITION REPORTS SHOULD BE CONSIDERED APPROXIMATE.
ALL LOTS PURCHASED MUST BE PAID FOR WITHIN 7 DAYS OF THE AUCTION DATE.
ALL LOTS IN THIS AUCTION MUST BE COLLECTED ON OR BEFORE 6TH OCTOBER 2017
ARTIST RESALE RIGHTS APPLY TO CERTAIN LOTS IN THIS CATOLOGUE. SUCH LOTS WILL BE MARKED (ARR.)
Due to the large number of requests for telephone bids that we receive, we regret that we are unable to accept telephone bids unless,
a) you are prepared to bid up to at least the top estimate (where such estimates are published ) should the bidding go that far, and
b) the lot has a low estimate of at least £300 (and this will be considered the minimum bid accepted for telphone bidders)
c) all requests for telephone bids must be in by 5pm on the day before the auction.
A deposit may be required for persons wishing to Book telephone bids please contact the office if you have queries in this regard
REGARDING JEWELLERY AND PRECIOUS METALS.
Payment for jewellery and precious metals can only be made by the following methods:-
in person by cash
in person with chip and pin debit or credit card
direct wire transfer to our bank
pre cleared cheque (up to 14 days to allow for banking)
please contact the office if you have queries in this regard